Thinking and Planning Adaptively and Entrepreneurially in the COVID-19 Era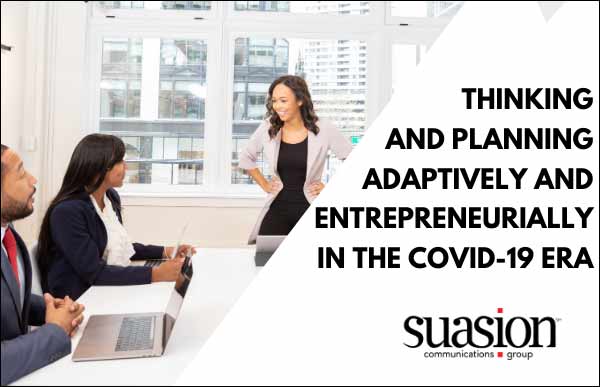 Entrepreneurs demonstrate the learning agility and comfort with ambiguity necessary to adapt thinking and behavior as the pace of change increases. They can absorb new information as it quickly emerges and as complexity and turbulence of challenges disrupt previously made plans. In addition, entrepreneurs demonstrate tolerance and adaptability to adjust thinking as necessary when dealing with highly ambiguous,  incomplete and unpredictable situations. They know how to navigate that perpetual white water of planning in the current environment. For information to best understand how to teach creativity and entrepreneurship, watch this video by Tina Seelig of Stanford University.
As an entrepreneur, what are responsibilities necessary to hold yourself, your organization and your team accountable? An entrepreneur is responsible for three core responsibilities – to provide direction and vision, protection (making sure the organization is not vulnerable and can survive external threats), and order and stability.
To make good decisions, entrepreneurs must draw from the past! Start by analyzing what small percentage needs to change from the existing way of doing things, and decide what is worth preserving and what is expendable.
Successful adaptations are both conservative and progressive. They make the best possible use of the previous wisdom and know-how. The effective leadership anchors change in the values, competency and strategy orientation that should endure. Organizational adaptation occurs through experimentation; similar to pharmaceutical giants willing to lose money to find the next profitable medicine.
If you are one who is leading adaptive change, then you must hone in on your experimental mindset – learning to improvise and buy time and resources along the way for the next set of experiments. Adaptation relies on diversity! In biology nature acts as a fund manager – diversifying risk, where each conception is a variant a new experiment, and produces an organism with capacities somewhat different from the rest of the population.
Finally, Suasion is a boutique agency with a passion for branding. Call our team, who specializes in creating and building distinctive, highly profitable brands that resonate and communicate your purpose. Learn more about how our team can help grow your business and/or organization by calling 609-653-0400 x103. We are excited to work with you!