How to Market Your Business After the Pandemic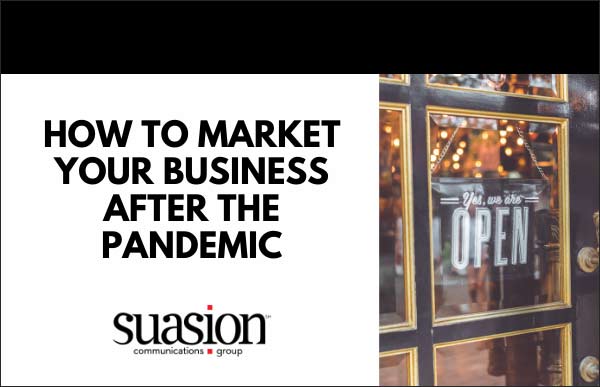 Now that many businesses have been given the green light to begin opening their doors once again to their customers, what's the best way to get the word out? When the COVID-19 pandemic hit, most 2020 business marketing plans had to be tossed out and rebooted to adapt to the current business climate.
Since the onset of the COVID-19 crisis, the Suasion team has been assisting our clients with campaign strategy redesigns to adapt to a changing and challenging marketplace.
Suasion has compiled a list of tips and strategies to assist with a successful reopening that will keep your businesses top-of-mind during the initial post-pandemic phase.
Tip #1: Spread the Word Often
Frequently spread the word that your business/organization has opened to the public. It will take several messages to cut through the marketing clutter to let everyone know that you are open. Deliver messaging by utilizing an omni-channel strategy approach – which simply means pushing lots of content and messages through all of your business platforms.
Tip #2: Be Specific About Your Services
Be specific with your company's messaging. These are very new times for customers and businesses in the marketplace today. Businesses and organizations should be specific when relating company hours, directions and product offerings. In regard to eateries and restaurants, these businesses should also be specific when relating takeout and delivery services and available dining areas to the public.
Tip #3: Communicate New Safety Procedures
What does your company/organization have set in place regarding new safety concerns? Is your business offering new hand washing and sanitation stations, cleaning procedures, virtual offerings, or contactless delivery services? Relate these new procedures to your customers and clients, allowing them peace of mind. Frequently communicating these new safety procedures with your clients allows them to understand how you are going the extra mile.
Tip #4: Pay Attention to Your Customers
The pandemic has affected each and every one of us, and impacted each in very different ways. While businesses and organizations begin to reopen, we should be focusing on how customers and clients are feeling emotionally. Some may be fairing relatively fine, while others have been devastated. Focusing and addressing emotional mindsets, current stressors and financial situations will help in better messaging and connecting to potential customers. Understanding your customer is crucial and will aid in providing insights on how you may pivot your services to better serve them.
Tip #5: Evaluate Paused Marketing Campaigns
Your business might have had to pause marketing campaigns due to the pandemic. Re-evaluate your campaign messages and assess the content to help identify a potential timeline to relaunch your campaign. Tweak your current campaign messaging if it's not quite right or develop a whole new campaign.
Tip #6: Develop a Post-COVID-19 Marketing & Public Relations Campaign
Change up your current messages and methods. Since social distancing and working from home is the new normal for most, look for new and alternative ways to reach your audiences. Alter the way in which you are delivering your company's messages. Develop and convert ads to digital, use strategic targeted marketing campaigns, and utilize Google AdWords in order to place your message in front of your audience. Companies and organizations can also begin to interact with customers 'face to face' on Zoom – a platform for you to meet with customers. Research how online platforms can help your company host meetings, consultations, presentations, tours and more. Click here for Suasion's full list of tips regarding Marketing During COVID-19.   
Tip #7: Create & Spread Positivity
Put negative narrative aside and create messages of positivity for your company. Utilizing omni-channel messaging, make sure to keep an upbeat attitude and conversation with your customers. There are brighter days ahead and customers should be reminded that you are eager and excited to welcome them back.
Tip #8: Call the Friendly Suasion Team
The Suasion Team stands ready to safely and remotely serve your business and/or organization. Call on us at 609-653-0400 x103 to learn how our team can help your company reopen and market to the current marketplace. Our team is excited to hear from you!