Behind the Mask – Delivering Customer Service in a Post-Pandemic World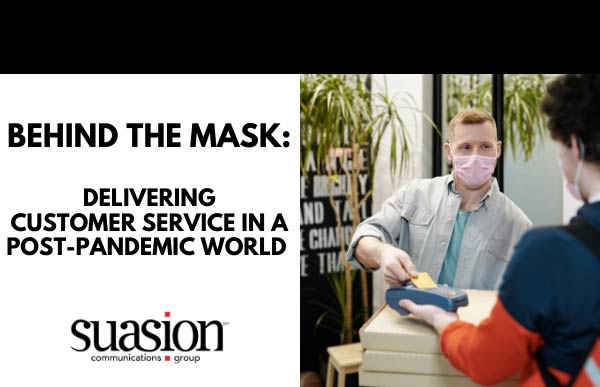 Your customers are returning and are eager to do business with you! Now that you are opening your doors to them once again, what are the best strategies to satisfy customer expectations while a wearing mask and practicing social distancing?
Suasion Communications Group has compiled a list of tips and strategies to assist with delivering exceptional customer service to your customers – keeping your businesses top-of-mind during the post-pandemic phase.
Tip #1: Understand Consumer Fears, Emotions, and Comfort Levels
The first thing to understand when delivering customer service to clients in a post COVID-19 world, is that there is no one-size-fits-all for customer expectations and emotions. Some people are overly cautious and timid, while others are fearless and eager to return to the group activities they enjoy. One thing to keep in mind is that each person has at least one kernel of COVID-19 fear. After being cooped up for a few months, many are dealing with a cocktail of emotions – from feeling fearful and frustrated while also being giddy and excited about getting out and seeing others again.
Tip #2: Do Your Research
Research how the majority of consumers are feeling nowadays. Trends show that many older folks are not taking as many chances and more people are growing financially worried. According to recent studies, attitudes, behaviors and purchasing habits by consumers have changed and will continue to be fluid. Read up on these changing behaviors, and adapt your business strategy to meet consumer expectations.
Understanding which type of consumer your business caters to will allow you to adapt and offer strategies to engage in conversation and business.
Worriers: Individuals who do not leave the home and avoid crowds at all costs. A large majority of these individuals are seniors.
Individualists: Individuals who are not afraid, are often seen as non-conformists and who desire freedom.
Rationalists: Individuals who wear masks and follow guidelines. 'Keep calm and carry on' mentality.
Activists: Individuals who are looking out for others in the community and are also highly active in assisting others. They post frequent COVID-19 facts and seek to play a role to change others' behavior.
Indifferents: Individuals who seek normality, believe that all is fine and that the COVID-19 situation has been blown out of proportion.
Source: https://www.accenture.com/_acnmedia/PDF-123/Accenture-COVID19-Pulse-Survey-Research-PoV.pdf
Tip #3: Develop Staff Guidelines
Before opening to the public, be sure to communicate with your staff about return-to- work guidelines. Take the time to relay your new policies and rules to your employees and answer questions. Reassure your team about what they are allowed to do by walking them through possible different scenarios or situations regarding what may occur on location when customers return. Regularly checking in with your team will allow for smoother practices and will ease employees' nervousness about returning to work.
Tip #4: Remove Fears & Barriers by Laying Ground Rules
Communicating your business' guidelines in advance of customer arrival is key. Consider utilizing an omni-channel approach: website, email marketing, digital and social media marketing, phone calls, texting, in-store signage, advertising, etc. to spread the word about your company's updated procedures. Once you do this, you will begin to ease customer fears and develop relationships once again. Customers may not walk through your door unless they are certain of your company's enforced rules and procedures. Answer their questions and ease their fears. Doing this will make it that much easier for customers to enter and engage with your business. Examples of frequent consumer questions: What are your hours, Do customers have to wear a mask while shopping in-store, Are you providing masks to your customers, How many people are allowed in-store at a time and Do customers have to notify you of their arrival?
Tip #5: Show and Tell
As a business owner, be sure to openly communicate what customers can expect when they return to doing business with you. Frequently Asked Questions (FAQ's) are a must when it comes to relaying your company's business policies. These can be placed directly on the company website and relayed throughout social media. FAQ's will allow your business to spell out answers to exact questions and can be modified and added to over time. Secondly, be sure to spell it out for customers; meaning to (over) communicate in every way possible to consumers – including additional in-store signage, visual cues for social distancing, and relaying the rules over and over again. Repetition is your friend here. Finally, play on consumers' visuals by overcommunicating to all senses. Verbally relay your business policies in-store, distribute them on social media and display them in-store. Anything you can do to get the word out – do it!
Tip #6: Take Note & Listen
Demonstrate that you care by offering quick and timely surveys and seeking feedback on social media. Letting your customers know you care and that you are there to listen will create a positive impact. Additionally, adhering to and even exceeding guidelines, by wearing masks and gloves as well as providing comfort sanitizing stations will be welcomed additions to your repertoire.
Answer additional customer questions such as: Do you have products on shelves, Are returns permitted, and Does your business offer online shopping? Make your customers feel as safe and comfortable as possible – allowing them to be as knowledgeable about your business before even entering the store.
Tip #7: Show Gratitude
Remember that customers cannot see your smile behind your mask! Therefore, be sure to overwhelmingly greet each customer, hold direct eye contact, and smile with your eyes! Be aware of your body language and posture; wave, blow 'air kisses' and give 'air hugs' and write messages, if appropriate.
Tip #8: Little Things Really Are a BIG Deal
Now more than ever, the little things are going to mean a great deal to your customers. Consider greeting each customer with a super friendly 'Hello' and a genuine 'How are you?' or 'We are so happy to see you!' and waving (with both hands) – creating a welcoming first impression. Offering small amenities and welcome gifts; complimentary masks and gloves for shoppers will be much appreciated and leave a lasting impression. Ask yourself: Why do people do business with my brand? Is it their sense of belonging, vitality, enjoyment and spirit? Figure out why customers do business with you. Play on these motivators, allowing your company to enhance its business operations and offerings.
Tip #9: Play up the 'Shop Local' Aspect
Now is the time to play up your local business. Now more than ever, customers want to support their local communities and businesses. Communicate that your business is locally owned and employs local people. Show how you serve the community. These factors can only bode well for your business – encouraging your customers to visit and do business with you.
Tip #10: Celebrate the Little Things
Celebrate the small wins with your staff. Whether you have new customers, received good feedback, or just generally had great customer encounters – celebrate the good days. In the meantime, continue to bring your staff together by hosting team building sessions where you can discuss things that are going well, changes to be had, and situations to understand, adapt and evolve. Communicating with your internal team will be a great asset for future business operations.
Tip #11: Develop Post-Visit Salutations
Communicate with your customers even after they visit your business. Do this by upping your post-visit email blasts, social media posts, texts, calls and business surveys. Seeking customer feedback and thanking them for their business will mean a great deal and will generate returns for your company. Listen, observe, ask questions, understand and adapt daily, if needed. Things are not done shifting, therefore, gaining a deeper understanding regarding the fluidity of the situation and how you can ease customer strains will reap positive rewards.
Tip #12: Lead With Your Heart
The greatest tip for moving forward is to lead with your heart. Brands that lead with their heart and show that they truly care will be the winners now more than ever. Moving forward, show compassion and care towards your customers. If you can make the customers feel great, then they will return. Create an open, friendly and safe environment for business.
Tip #13: Call the Suasion Team
Finally, call the Suasion Team who stands ready to safely serve your business and/or organization at 609-653-0400 x103; learning how we can help your company reopen and market to the current marketplace. Our team is excited to hear from you!