Hello Reinvention, Goodbye Reopening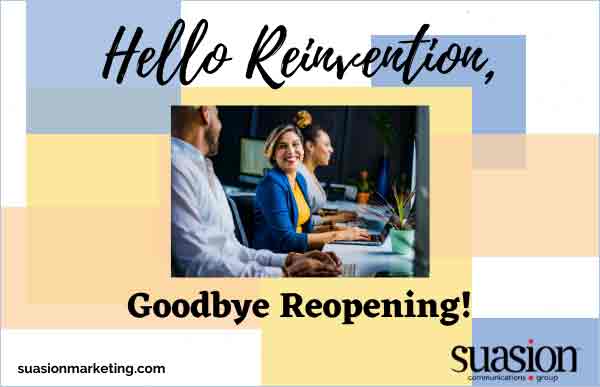 The pandemic has required exceptional business agility in all industries with no signs of letting up. In the face of post-COVID life, consumers are not reverting to pre-pandemic behaviors. Thriving in this new era of readjustment and narrowing purpose will require reinvention like never before.
Suasion Communications Group has compiled a list of four persisting online buying behaviors to aid in understanding your customers' new and evolving post-pandemic behaviors – keeping your business one step ahead of the curve.
Dynamic Demand
Consumers' buying patterns will continue to evolve as they react to unpredictability. Your customers now have new and ever-changing needs, with different products and categories trending week to week. Adaptability and reinvention are key in making your post-pandemic business model a success.
Supportive Spending
Your customers will continue to be more discerning about how and where they spend their hard earned dollars.
Perceived value will become less about price and more about alignment – with a heavy emphasis placed on how a product or service aligns with your customers' values.
Digital Inspiration
Many people will continue to look for ideas and inspiration online. For example, searching ideas for unique gifts on Google Images has grown by over 100% since the pandemic began.
After spending the majority of the last year at home, people have grown more comfortable with online shopping and are hungry for inspiration.
Count on Convenience
Convenience is often at the top of a buyer's mind while shopping in a post-pandemic environment. Be prepared to meet your customers where they are to create a necessary comfort level to do business.
Reference: Think With Google
Businesses must prioritize reinvention and adaptability in a post-pandemic environment to attract new and recurring customers. Meeting dynamic demand, understanding supportive spending, supplying digital inspiration and providing convenience will keep your business on top during times of change and unpredictability.
Suasion Communications Group is an award-winning, boutique agency with a passion for branding, public relations, digital and creative design. If you would like to learn more about how our team can help grow your business or organization, call 609-653-0400 x103.