Emerging Markets in Hospitality & Tourism 2022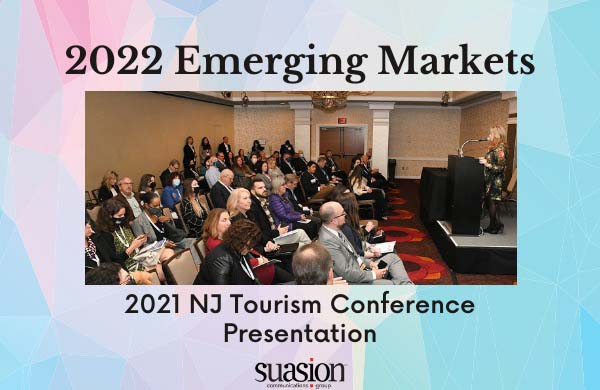 Suasion Communications Group President Susan Adelizzi-Schmidt, MBA presented an insightful look at the hospitality industry's Emerging Markets to watch in 2022 at the 2021 New Jersey Tourism Conference in Atlantic City, NJ.
Here are some key takeaways from the session:
Travel & The Pandemic
Consumers demand increased cleanliness standards and expect social distancing at attractions. Crowd control is also a factor as many tourists say they will stay away from overcrowded attractions. The top factors that make travelers feel more comfortable when staying in hotels include contactless payments, digital room keys, hotel specific digital messaging services, and minimized daily housekeeping services.
Sustainability Trends
Environmental and economic sustainability are trending topics for travelers. Many consumers have shown an inclination toward environmental conservation and contributing to local economies while traveling. Sustainable travel involves minimizing impact on the environment as travelers see the importance of taking ethical trips, buying souvenirs from local merchants, and supporting local businesses at their destination.
Generational Trends
Millennials and Gen Z's are more likely to get trip planning ideas from social media. They are more likely to take solo vacations rather than with large groups and they seek out experiences that can be shared on social media. Generation X tends to travel less than other generations. They enjoy family-oriented actives and budget friendly options while traveling. Unlike Generation X, Baby Boomers are more likely to save for a luxurious vacation and spend the most on average while traveling. Seniors enjoy traveling just as must as other generations and tend to make booking decisions based on informational advertisements.
Diversity, Equity & Inclusion Trends
Leaders within the tourism industry have come together to launch Tourism Diversity Matters (TDM), an organization that works to foster diversity, equity, and inclusion practices. The four pillars of TDM include apprenticeship programs, workforce development, diversity, equity and inclusion (DEI), research and data. Visit https://tourismdiversitymatters.org for more information.
The LGBTQ+ community values safety above all other factors while traveling. Many LGBTQ+ individuals report experiencing some form of discrimination when traveling. Members of the community believe that traveling means some destinations are off limits, making it crucial that all travel destinations accommodate and become true allies to members of the community.
Abled individuals are an emerging market in the tourism industry. As Baby Boomers age, they encounter physical limitations and will be seeking destinations that cater to their needs. Over 25 million Americans, 5 and older, have self-reported travel-limiting disabilities, making it essential for destinations to accommodate to differently abled needs.
Corporate Travel & Working Remotely
 Many companies expect to increase work travel in 2022, and the option to continue to work from home has given many people the freedom to take 'workcations'. Workcations are trips that allow an individual to experience a destination while working remotely. Those that work remotely are more likely to take trips longer than two weeks.
Popular Emerging Trends
Customers expect experiences to be made simple and convenient in wake of the pandemic. Many are looking for destinations that will accommodate to the lifestyles that they have adapted during the pandemic in 2020. This includes offering pet-friendly accommodations, fitness-friendly environments, and a variety of dietary options for guests.
Other 2022 trends to watch include:
Instagrammability
Destinations with high factors of Instagrammability – the lure of taking pictures in various locations and the attractiveness and interest that a destination possesses in order to be photographed and posted on social media, particularly Instagram. Scout out your destination's hottest photo spots and make sure to plug them on social channels and website. Fun hashtags will make a destination's Instagrammability factor even more engaging.
Staycations
Vacation destinations and attractions that are not far from a traveler's home may offer a bevy of new experiences and hidden gems. Sometimes even a hometown can become a staycation resort (can we say marketing). The pandemic's travel restrictions have catapulted staycations into an increasingly popular pastime. The key to staycations is to package and encourage visitation to attractions that may be overlooked or taken for granted by local residents.
Cannabis Tourism/Psychedelic Retreats
With the expansion of US states passing laws permitting recreational cannabis use and other countries permitting recreational psychedelic drug use, vacations centered around consuming weed in various forms (edibles are very popular) or psychedelic substances like truffles, in a controlled, safe environment is becoming a trend watch.
Crypto Trips
Vacations that can be booked using online currencies such as Bitcoin.