2020 Holiday Business Marketing Secrets to Success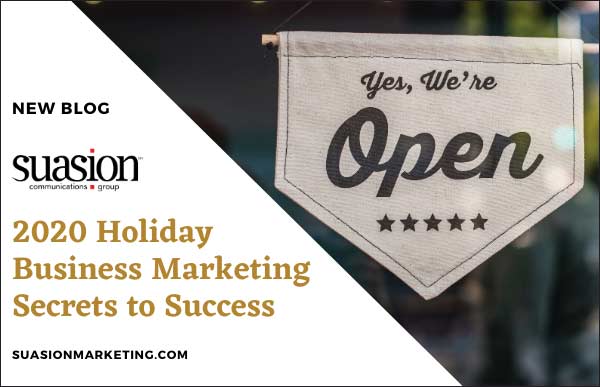 This year has been unlike any other, and the 2020 holiday season is sure to follow suit.
The Suasion team has developed our top ten 2020 marketing strategies list that will help businesses stand out above the competition, attract more holiday shoppers, and increase sales during this year's nothing-but-ordinary holiday shopping rush.
Launch an Online Shop
Now is the time for traditional brick and mortar businesses to launch their online stores. Making the digital pivot will allow businesses to reach additional consumers online and will enhance sales. Sending newsletters, email blasts, and enhancing your social media presence are key strategies to promote your online store.
Deliver Phenomenal Customer Service
Deliver exceptional customer service to your customers – online and in-person. Understanding your customers' fears and emotions, as well as prominently displaying COVID-19 safety protocols, will build customer confidence and ensure a safe shopping experience for all. Remember to take note and listen to your customers by seeking feedback and reviews online and in-person. It's also important to show gratitude by providing the little extras; start by saying 'thank you' and 'you're welcome' as well as being grateful and extra kind. Read Suasion's full list of customer service strategies in this blog.
Use Automation to Promote Holiday Sales
There are several platforms that allow for some form of ad scheduling, to ensure your ads with sales messages are live and paused when they need to be.Depending on the platform, be sure to check out its ad scheduling capabilities and adjust accordingly. Promotions can run as whole-day events or 15-minute increments. Either way, know your options and make sure your customers are seeing an accurate message, no matter the time.
Communicate Realistic Delivery Expectations
Provide realistic information regarding order delivery. Even if something is technically called 'two-day shipping' and that's what your customer is paying for—if you know it's running behind schedule, provide that information. Managing expectations, especially closer to the holiday, is so very important.
Improve Your Website Speed
With an increase in online shopping this 2020 holiday season, there may be a drain on some network bandwidth. Some users will have their normally fast internet slowed by more users being on the network, while others with already-slow internet may be hit even harder. Either way, this holiday season is the prime time to remove site speed hindrances and speed things up for your customers.
Make Your Website Mobile-Friendly
With many people still in the work-from-home phase, there will likely be an even higher percentage of users coming from mobile devices in 2020. Although it's been 'the year of mobile' for more than a decade now, it's really important to make sure your site is mobile-friendly this holiday season.
Give Users a Few Ways to Pay
The last thing any consumer wants to do is enter their credit card information over and over again for each online purchase. Let 2020 be the year you let users pay with PayPal, Apple Pay, or some other platform rather than needing to use a credit card at your store.Most platforms easily allow these solutions to be added to your online or ecommerce site, and from a user perspective, it's so much easier to click the PayPal logo, log in, and already have payment and shipping information available instead of typing it in after each purchase.
Share Customer Reviews
People care about what others think—especially what they think about your products, so play to your strengths here and make it a priority to showcase your online reviews—before and during this holiday season.If you don't have this feature or plugin for your website, there are solutions out there to make it possible. Platforms that offer preset tools allow you to easily integrate reviews into your website.Quality Google reviews and an up-to-date Business Profile directly impacts your ranking in local results, so if you want to show up first on Maps and/or Search for the holiday shopper Googling stores near them, get your Google review game in gear.
Use Real-Life Photos
Similar to customer reviews, seeing products 'in action' will be a big selling point online for the holidays this year. With many consumers still being cautious due to the ongoing pandemic, normally-high in-store holiday sales are likely going to be lower than ever.The experience of being in the store is something online retailers can't overcome. So what's the next best thing? Show them. Give your customers all the real-world pictures they could wish for.
Maintain Product Feeds
Ensure that you are promoting products that are still available. If the item is sold out, it is a relatively easy fix if you're using product feeds or catalogs, and keeping up with your inventory. Facebook,Google, and a host of others have ways for you to make sure you are only advertising products that are in stock.
Suasion Communications Group is an award-winning, boutique agency with a passion for branding, public relations, digital and creative design. If you would like to learn more about how our team can help grow your business or organization, call 609-653-0400 x103.
Reference: Morgan, Michelle. "2020 Holiday Advertising: 8 Secrets to Success (and Sales)." WordStream