Suasion Communications Group Celebrates 16th Anniversary in 2023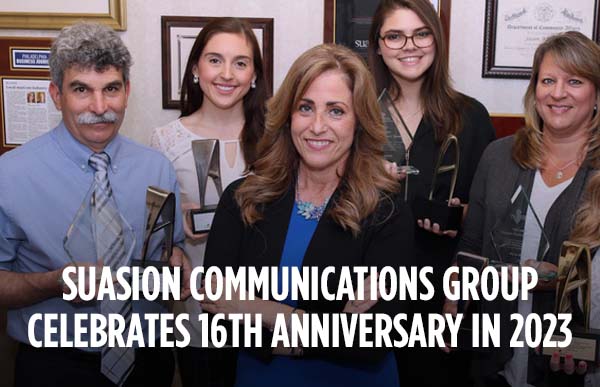 Suasion Communications Group, based in Somers Point and Haddonfield NJ, a certified New Jersey Woman-Owned Small Business Enterprise (WBE/SBE) is celebrating its 16th anniversary in 2023. Over the years, Suasion has grown in terms of people, clients, accolades, and community contributions, in spite of national and global challenges.
Suasion President Susan Adelizzi-Schmidt, MBA, founded Suasion on August 1, 2007, just months before the grips of the Great Recession began taking a serious toll on the US economy, which largely impacted small business. The first-time entrepreneur seized the opportunity to purchase the agency she had been working for, revitalizing it with major organizational and strategy changes as well as a rebranding it under the name Suasion.
In Business, Headwinds Come and Go; Tailwinds Usually Prevail 
"Starting Suasion in late 2007 at the same time the US economy was taking a nosedive provided an early education on how to run a lean, mean business operation and pivot the business development strategy," explained Adelizzi-Schmidt. "The primer lessons we received during the Great Recession served us very well during the recent COVID-19 pandemic when Suasion pivoted to provide more online client services which resulted in expanding services state-wide in New Jersey and throughout the Delaware Valley region. In business, headwinds come and go; luckily, tailwinds usually prevail."
The Suasion team provides a complete range of communications services, including brand strategy, public relations, digital marketing, website and creative design. Suasion's clients include hospitality, tourism, municipal, retail, corporate, health care and non-profit organizations. As an award-winning, omni-channel communications agency, Suasion offers highly customized campaigns that incorporate a rich mix of marketing and incisive business expertise.
"It's an honor to serve our clients everyday. The Suasion team enjoys building brands and exceeding expectations. We are inspired by our innate ability to advance our clients' goals, regardless of their challenges, by combining superior design and innovative thinking to foster audience engagement, interaction, and activation," explained Adelizzi-Schmidt.
Suasion's team is comprised of innovative and passionate creative professionals who are dedicated to their clients' success. The firm is driven by three core values: delivering stellar client service, exceeding expectations and creating spectacular results. Suasion's team specializes in creating and building distinctive, highly profitable brands that identify a unique selling proposition, resonate and successfully communicate the client's brand promise. The Suasion team provides a complete suite of communications services that drive traffic and improve brand awareness.
Suasion's Work Recognized With Notable Accolades
Under Adelizzi-Schmidt's leadership, Suasion has been recognized with over 25 notable accolades, including being named to the Philadelphia Business Journal Top Full-Service Marketing Agency List for the past five years; ten New Jersey Tourism Excellence Awards; five HSMAI Adrian Awards, three PR Daily Awards and a Bulldog Award.
Adelizzi-Schmidt has also personally been recognized for her professional achievements. In 2021, Adelizzi-Schmidt was selected as a 2021 Philadelphia Style Power Player. In 2020, Adelizzi-Schmidt was honored with a Ragan's Top Women in Communications Award and was selected for Philadelphia Style's 2020 Dynamic Women of Philadelphia. In 2018, Adelizzi-Schmidt was awarded a FOLIO: Top Women in Media Award, recognizing the women trailblazers, leaders, advocates and mentors of the industry. Adelizzi-Schmidt is also a recipient of the 2015 Philadelphia Business Journal's South Jersey Entrepreneur of the Year Award. In 2014, she was selected for theStockton University's School of Graduate Studies Professional Achievement Award; and she is a 2017 graduate of the prestigious Goldman Sachs 10,000 Small Businesses Scholarship Program.
Currently, Adelizzi-Schmidt is a Doctoral Candidate (Organizational Leadership) at Stockton University in Galloway, NJ, where she also completed her Master of Business Administration (MBA). She holds a Bachelor of Arts from Arcadia University, where she had a dual major in English and Communications. In addition to her professional career as an entrepreneur, Adelizzi-Schmidt also serves as a Stockton University School of Business Adjunct Professor, where she inspires young minds with insightful, real-world lessons. Additionally, she shares her business knowledge at well-received seminars and workshops that take place regularly at schools, universities, industry associations and business organizations.
Sharing the Latest Trends at Presentations & Workshops
In addition to her university professor duties, Adelizzi-Schmidt shares the latest trends and information on marketing, public relations, tourism, entrepreneurship, and leadership at well-received seminars, classes and workshops. Her highly-engaging presentations provide insightful industry insights and take place regularly at universities, industry associations, conferences and business organizations.
Paying It Forward to the Community
Adelizzi-Schmidt and the Suasion team have always generously contributed time, talent and treasure to the community and charitable organizations, including the Somers Point Babe Ruth Baseball League, Murphy's Healing for the Soul Chicken & Potaotes Community Feeding Tour, Big Brothers/Big Sisters Over the Edge, Somers Point and Upper Township Trash Clean Ups, Alex's Lemonade Stand and countless other causes.
Adelizzi-Schmidt has mentored dozens of students entering the communications field and she currently serves on the New Jersey Tourism Industry Association and the Downtown New Jersey Boards of Directors. She is a member and mentor in Stockton University Women's Leadership Council and serves on the Stockton University Dean's Executive Advisory Board. Additionally, she serves on the Atlantic Cape Community College Media Advisory Board. Previously she chaired the Upper Township Economic Development Advisory Commission and is immediate past Chair of the Cape May County Women's Commission.
For more information about Suasion Communications Group, visit SuasionMarketing.com or call 609-653-0400
###
About Suasion Communications Group 
Celebrating 15 years of service in 2022, Suasion Communications Group is an award-winning, full-service communications boutique agency with a passion for executing highly successful branding, public relations, digital marketing and advertising campaigns. The Suasion team creates robust marketing campaigns that drive traffic, improve brand awareness and increase sales by incorporating a rich mix of marketing and incisive business expertise. A Woman-Owned, Certified New Jersey Small Business Enterprise (WBE/SBE), Suasion has been recognized by the Philadelphia Business Journal as a Top Branding, Marketing and Media Services Agency and has won over 25 notable awards, including ten New Jersey Tourism Excellence Awards, five HSMAI Adrian Awards, three PR Daily Awards and a Bulldog Award.
For more information about Suasion Communications Group, visit SuasionMarketing.com or call 609-653-0400 x103.