More Key Marketing Trends for 2021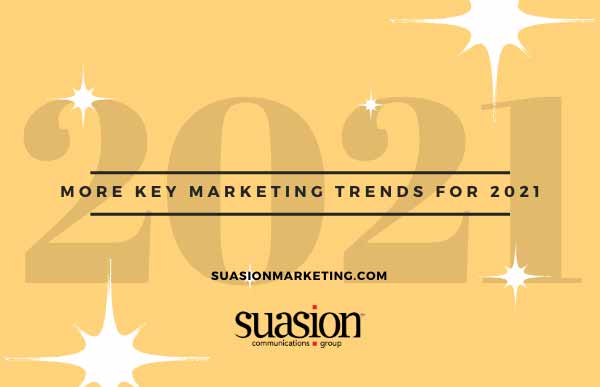 2021 is the year of voice strategy
When searching the web, most users rely on the search engines to do the work. This year, people will be using voice searches on their smartphone, tablets, and voice assistants. This means it is essential to optimize content for voice search! "Hey Alexa, find me a plumber." and "Hey Siri, where is a good Italian restaurant near me?" are some common phrases thrown out in voice-searches. They are typically very general, so it's important that your business optimizes its presence among competitors.
Alongside your business' website, it's also wise to consider including e-commerce into your brand. Establishing an online shop can be an easy way to generate revenue while accommodating for online-oriented customers. Creating an online shop with an enhanced social media presence is an ultra-effective way to engage with customers in a rapidly changing world.
Key features to include on your website, or on your new online shop should include:
A smooth and professional looking website
Mobile-friendly websites are a must. Making your website compatible and easy to use on cell phones is almost as important as the website itself. Without a mobile friendly website and fast loading speed, you will lose a significant number of organic searches and have a high bounce rate. Today, there are more mobile and tablet users on websites than there are on desktop.
Customers will see that you are on the cutting edge of the online world and are more likely to trust and engage with a website that looks professional.
An easy to use e-commerce shop
Allowing customers the option to order online is crucial in 2021. Between an ever-growing online world and the worldwide pandemic, online ordering has become essential. Making this platform easy to use and easy to understand is also important as it minimizes possible hiccups in the interaction with the customer.
Multiple ways to pay
Providing multiple payment avenues is one way to ensure that your business can reach as many customers as possible while ensuring each customer has a satisfied experience. This accommodation for the customers will help ensure your shop is easy to use.  
Ways to contact the business 
Keeping in touch with your customers is the best way to include yourself in the community. Reaching out and maintaining a continued rapport with customers can help a growing business achieve a good standing in the community, and can help any business make customers feel valued.
The new year can be a great time to expand your business and keep your existing customers coming back for more.
Suasion Communications Group is an award-winning, boutique agency with a passion for branding, public relations, digital and creative design. If you would like to learn more about how our team can help grow your business or organization, call 609-653-0400 x103.