Celebrating 16 Years of Innovation and Excellence:
Suasion Communications Group's Remarkable Journey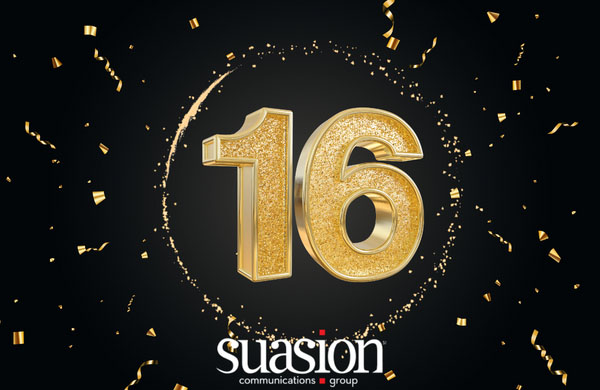 In the dynamic world of communications and marketing, Suasion Communications Group stands tall as a true trailblazer. As the company commemorates its 16th anniversary in 2023, it is the perfect moment to delve into the remarkable journey of this New Jersey Woman-Owned Small Business Enterprise (WBE/SBE) and uncover the secrets behind their enduring success.
Suasion specializes in tailoring communication strategies to meet the unique needs of businesses, municipalities, downtowns, tourism destinations, financial institutions, retail establishments, healthcare providers, universities, and nonprofit organizations.
The Early Days
Navigating through turbulent waters, Suasion was founded on August 1, 2007, by entrepreneur Dr. Susan Adelizzi-Schmidt, MBA, Suasion Communications Group embarked on its journey amidst the challenges of the Great Recession. While many businesses faltered, Susan's unwavering determination and astute leadership transformed this adversity into an opportunity for growth. Early on, she expanded the business into new markets, laying the foundation for a journey of remarkable transformation.
Unparalleled Client Services
Recognizing the potential of revolutionizing communications, Suasion integrated cutting-edge technology and advanced analytics into their services. The result was a remarkable suite of offerings, including brand strategy insights, data-driven audience targeting, and personalized content recommendations. By optimizing their clients' digital marketing campaigns, Suasion ensured higher conversion rates and remarkable ROI.
Empowering communication In the fast-paced realm of public relations, swift responses to public sentiment can either elevate or undermine a brand. Suasion's ingenuity in incorporating AI-driven sentiment analysis empowered them to gauge public perceptions surrounding their clients' brands accurately. Armed with this invaluable data, they navigated challenges with agility, turning potential crises into opportunities for positive growth.
Elevating Customer Experiences
At the core of Suasion's philosophy lies a dedication to crafting immersive customer experiences. Through seamless integration of intelligent bots into their clients' websites, they provided instant support and engagement, leaving customers with a lasting impression. The result was increased brand loyalty and unwavering customer satisfaction.
Evolving Leadership
Dr. Susan Adelizzi-Schmidt's earned her EdD amidst the agency's remarkable journey, as she continued to lead clients and the company. Susan earned her EdD in Organizational Leadership from Stockton University, adding another layer of expertise to her visionary leadership. Her passion for continuous learning mirrors Suasion's commitment to staying ahead of the curve.
The Impact Beyond Business
Giving back to the community beyond their professional endeavors, the Suasion team and Susan believe in giving back to the people and places that support them. Embodying the spirit of responsible corporate citizenship, the Suasion Team contributes their time and talents to numerous charitable organizations – making a positive impact beyond the business realm.
Award-winning Agency
Suasion is an award-winning agency, recognized for its excellence in delivering comprehensive, tailored solutions across various channels. With a deep understanding of business dynamics, offer a wide range of services including communications strategy, public relations, branding, digital marketing, creative design, and crisis management. The Suasion team excels in handling both large-scale, ongoing campaigns and project-based clients, ensuring exceptional outcomes and further strengthening its ability to deliver impactful results.
Suasion has proudly received prestigious recognition from the Philadelphia Business Journal as a leading agency in Branding, Marketing, and Media Services in the Greater Philadelphia region.
A Visionary Future
As Suasion Communications Group looks back on its 16 years of excellence, it marches boldly into the future, fueled by innovation and a commitment to delivering outstanding results for their clients. With their clients at the heart of their endeavors and Dr. Susan Adelizzi-Schmidt's leadership guiding their path, there is no doubt that the best is yet to come for this exceptional communications agency.
For more information about Suasion Communications Group, visit SuasionMarketing.com or call 609-653-0400 x103.
Here's to a future where innovation and excellence continue to intertwine!